---
Roulette Wheel - What are the differences?
The roulette wheel, said to have been invented by Blaise Pascal in the 1700's, has become the most recognized symbol in the gambling world today. Why is that? Maybe because if you see a deck of playing cards, you might just as easily conjure up images of casino poker as two children playing "Go Fish". On the same level, a pair of dice could just as easily bring a picture of a craps table to mind as it could a game of Monopoly. Roulette wheels are unique in this regard, in that there's only one thing you could possibly imagine when you see one. You see yourself at the roulette table, placing a big, life-changing bet on Red 12! Well, maybe not, but you get the picture. The roulette wheel has become the enduring symbol of casinos and gambling all over the world.
Roulette wheels are also virtually unchanged since their invention around 300 years ago. The only two small changes took place about 100 years after the first roulette wheels became popular, and only then to give the casinos where roulette was being played a bigger advantage. Originally, the roulette wheel didn't have any zeros on it. Just 36 black and red pockets for the ball to fall into. When the first zero was added, that increased the house edge to 2.7%. But when this game made its way to America not long after, a second green pocket was added, with the '00' increasing the house edge to 5.3%. It's at this point that there was a split between American and European roulette because the European roulette wheel never added the '00'.
Below, you will see a European roulette wheel and an American roulette wheel side-by-side for comparison purposes: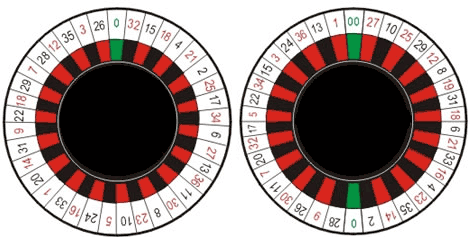 As you can see, the American roulette wheel has the extra green pocket, which forces all the other pockets to be slightly smaller, and also has the effect of shifting all the numbers around. Most online casinos tend to use the American roulette wheel, giving them a better edge, but GoldenPalace.com uses the European style wheel almost exclusively. They have a European Roulette game and a Roulette Pro game, both of which use the single-zero wheels. This is a nice change from the land-based casinos in the U.S., and gives the player a bit of a better chance at winning. So there is an advantage to playing online roulette as opposed to the casino version. At least in the U.S. that is!
---